OpenSF v3.9.0 has been released and can be downloaded here.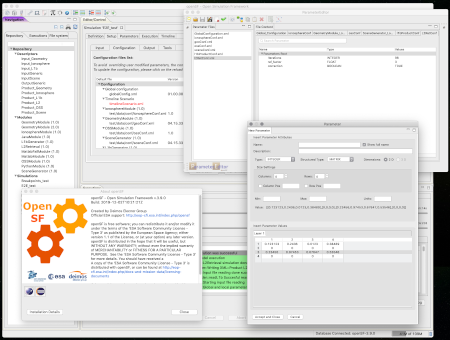 User registration is required. Please find detailed instructions here.
New Features
Removed the concepts of Stages and Sessions

IMPORTANT
This implies an automatic DB upgrade to a new format.
Once upgraded to the new format, the DB becomes incompatible in previous OpenSF versions

Added "Show Log" button to the execution
Added display of custom Simulation folder in File System repository
Enabled deleting multiple Simulation Executions in a single step (using multiple selection)
Improved organization of the test validation dataset
Corrections
Removed flickering when changing status in the Parameter Visibility dialog
Corrected incorrect collapse of file tree in the Setup/Configuration pane (macOS only)
Corrected default size of Module selection dialog (Linux only)
Corrected setup of path used to find dynamic libraries (i.e DY/LD_LIBRARY_PATH and PATH)
Updated documentation to refer Ubuntu 18.04 as reference supported Linux platform
Corrected splash screen not displaying (Windows only)
Corrected failing examples due to the dimensions mismatch of the 1D arrays
Corrected export failed for results of sub-sessions
Corrected title displayed for new module panel
All Release Notes are available here.