OpenSF v3.9.3 has been released and can be downloaded here.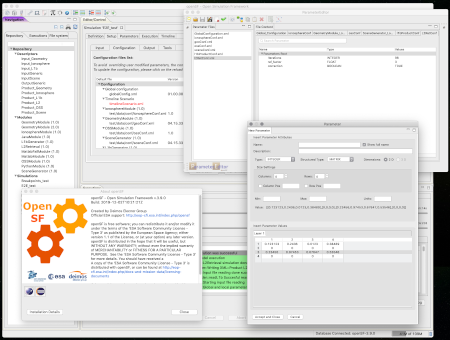 User registration is required. Please find detailed instructions here.
New Features
Enabled the use $E2E_HOME as the location for the Simulator modules/input/output files
  - $OPENSF_HOME is now used to indicate the location of the openSF itself
Enabled handling of empty rows in ARRAYS in Parameter Editor
Enabled 'follow symbolic link' option when provisioning inputs
Improved table columns resize to fill the full width of the panel
Added parameter names validation to detect use of invalid characters
Added safeguard against trying to configure Iterations, Perturbations and
Batch simultaneously
Enforced the orderly termination as a start condition for depending modules
Migrated Parameter Editor logger to SWT widgets
Improved log handling (message storage & memory management)
Corrections
Corrected the width of dialogs and panels to be independent of screen size
Removed unused sorting widget from Log Messages in Executions tab
All Release Notes are available here.